Overview
Mobile resource management solutions utilized for fleet, water, energy and Quarantine management applications
Intelligent Fuel Management Solution
The Intelligent fuel management solution is specially developed for distribution of fuel resources between designated fuel stations / trucks and authorized recipients (generators / vehicles).
The dispensing fuel nozzle will only recognize and issue out fuel to authorized generator tanks that have been pre-fitted with corresponding RFID clips. All other containers / vessels will automatically be rejected as the fuel flow will be shut off. This will ensure 100% compliance in distribution of fuel resources.
Blood Alcohol Content Tester
The Alcohol sensor, when integrated with the vehicle tracking systems will test alcohol concentration in the drivers blood, send this data over the air to the receiving server / tracking platform as an alert so as to ensure drivers safety and compliance.
IM Safe Quarantine Management Solution – Covid 19 Response plan
Smart Watch Solutions Limited – Uganda's leading provider of fleet and mobile asset management solutions, has an immediately available and deployable automated Quarantine Management System (QMS) that can be used in the fight against COVID-19.
The IM Safe Quarantine Management Solution is designed to help medical and state authorities identify, contain and monitor individuals suspected to have been infected with COVID-19 through their travel or human-to-human contact history.
Remote Generator Monitoring Solutions
By implementing a customized fuel level sensor and anti-siphoning solution for booster pump standby generators, operations managers are able to monitor integrity / quality of delivered fuel consignments. As the anti-siphoning tank caps and pre-installed fuel level sensors will report in real time – fuel refill quantities, fuel levels, and consumption readings and any unauthorized fuel drain / siphoning events.
The generator monitoring solution will deliver vital data on the health status of the engine and mechanical components, as oil pressures, engine temperatures, operational workloads and power outputs could be tracked. Ensuring longer life spans and productivity of the asset.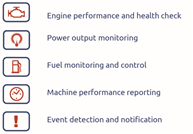 Intelligent Speed Limiter
Suitable for Light & Heavy vehicles. ISL proactively controls the vehicle to prevent vehicle speed violations.
The engine will have full engine power below the speed thresholds. ISL uses its own speed sensor independent of the vehicle's speedometer. It operates independently to internet connection or a SIM card.
ISL does not interfere with any Breaking system of the vehicle. ISL is designed in accordance with the British, EU, and South African standards for speed limiters.
Geo-zone &Speed zones pro-active control
ISL limits the maximum speed of the vehicle according to the allowed maximum speed of each area and it changes automatically if the zone is changed. It does not require any action by the driver.